Articles
VHR, Vine Hill Ranch
VHR, Vine Hill Ranch Cabernet Sauvignon 2008–2019
Over the last decade or so, the VHR, Vine Hill Ranch Cabernet Sauvignon has established itself as one of the elite wines of Napa Valley. This retrospective, back to the inaugural 2008, provided a fascinating opportunity to check in on the early vintages and revisit more recent releases that complete the arc of the last dozen years here.
I still remember the first time I tasted the VHR Cabernet. It was at the end of a long day of tastings with broker Kimberly Jones. It was my first big trip to Napa Valley after Robert Parker had asked me to take over the coverage of these wines from him. I must have tasted 150 wines. The kitchen counter was literally covered with bottles. John Kongsgaard and Andy Erickson were among the winemakers who stopped by to present their latest releases. It was an incredible day. 
I find large tastings like this energizing because they really focus the palate. "I have something new to show you," Jones said. I was floored. The wine was tremendous. Even after everything I had tasted, this wine, the wine in my glass, was so obviously special, so obviously unique. It was the 2008 VHR Cabernet Sauvignon.
Vine Hill Ranch is one of the most distinctive vineyards in all of Napa Valley. Bruce Phillips and his wife, Heather, are the stewards of land that has a rich heritage going back all the way to the 1880s, the very early days of viticulture in the Napa Valley. Historical records show that wine grapes from this site were sold to a number of buyers, including Hamilton Crabb's To Kalon Wine Company. Vine Hill Ranch is also one of very few properties that sells fruit to other wineries and also produces an estate Cabernet Sauvignon under the same name. The history of the site and wine are inextricably linked. Here, we will explore both. 
A Rich Family Heritage
Bruce Phillips' great, great grandfather, Robert Muirhead Hamilton, a native of Scotland, travelled to California in the 1840s as part of the Gold Rush. Unfortunately, the promise of discovering significant wealth never materialized. But Hamilton did meet Livingston Low Baker. Together they formed Baker & Hamilton, and built a hugely successful catalog business that sold tools and other supplies to the emerging agriculture sector. As a brief aside, the Phillips family's new Baker & Hamilton Cabernet Sauvignon pays homage to this early chapter of their history. Hamilton's son, Alec, married Grace Spreckels. Their daughter, also Grace, married Bruce Kelham, and that is where the modern-day history of Vine Hill Ranch begins.
Bruce Kelham had a diary operation on Point Reyes. Kelham sold his Bear Valley Ranch to the US Government in 1956 as part of a program headed by Congressman Clem Miller that combined a number of properties to form what is now the Point Reyes National Seashore, a stretch of protected land along the coast in Marin County.
Later that year Kelham used his proceeds from the sale and acquired a large tract of land in Napa Valley that spanned approximately 2,500 acres. The property started at Dwyer Road in Oakville and ran south to Yountville. From a viticultural perspective, the estate included what are today Kelham, True Dog Knoll, Vine Hill Ranch, Beckstoffer-Missouri Hopper, Moffitt, MBar Ranch and Promontory. Kelham dreamt of building a home that would recreate the spirit of Bear Valley Ranch in the Napa Valley. He called his new estate Vine Hill Ranch.
Architecture runs deep in the family. Bruce Kelham's father, George, had been a prominent architect. He was the chief architect for the San Francisco Bay Exposition in 1935. Other major works include the Federal Reserve Bank of San Francisco, the Shell Building in San Francisco and the San Francisco Public Library (today the Asian Art Museum of San Francisco). Construction started in 1959 and finished in 1964. It's a gorgeous home, especially in the way indoor and outdoor spaces melt into each other seamlessly.
Napa Valley was still emerging from Prohibition. It was a diverse agricultural community in which grapes were cultivated alongside other crops. From 1957 to 1974, all of the grapes from the ranch were sold to Beaulieu Vineyard for their Georges de Latour Cabernet Sauvignon. (Upon learning this piece of trivia, I had to wonder if the concept of "Rutherford Dust" might need a re-visit.) In any event, the vineyards from the western part of Napa Valley, then referred to as the Oakville and Rutherford Benches, have long been highly regarded.
Over the years, the Phillips family sold a number of parcels. Dr. Herbert Moffitt acquired a significant portion of land at the southern end of the property in the late 1950s. Moffitt sold a large tract of totally undeveloped land in the hills behind Dominus to Girard, who then sold it to Pat Stotesbury at Ladera. Many years later Bill Harlan purchased that land over a series of transactions for what is now Promontory. The Moffitts retained a small, highly regarded vineyard on Oakville's southern border for many years before selling most of it in 2011 to the MacDonnell family at Round Pond, who rechristened their portion MBar Ranch. Other parcels from Bruce Kelham's original holdings were spun off to members of the extended family, including the present day Kelham vineyard, and, more recently, True Dog Knoll.
In 1974, Robert Mondavi entered into an agreement to buy fruit from Vine Hill Ranch. It was a time of change in Napa Valley. By the mid 1970s, Mondavi had made a name for himself as a charming and visionary owner. Beaulieu Vineyard was going through some ups and downs. Mondavi was able to scoop up a number of top sites for his Reserve program. These included Horton (MacDonald), Detert, Moffett and Vine Hill Ranch. The relationship with Mondavi lasted until 2009. At its peak, Mondavi purchased 40% of Vine Hill Ranch fruit. It was a very different time in Napa Valley. The Phillips property encompassed around 200 acres of vineyards, but things looked quite different than they do today. Chardonnay was highly sought after. Most of the present-day Kelham vineyard was Chardonnay. Vine Hill Ranch and Missouri Hopper were planted to Cabernet Sauvignon, but also Sauvignon Blanc, which is unthinkable now.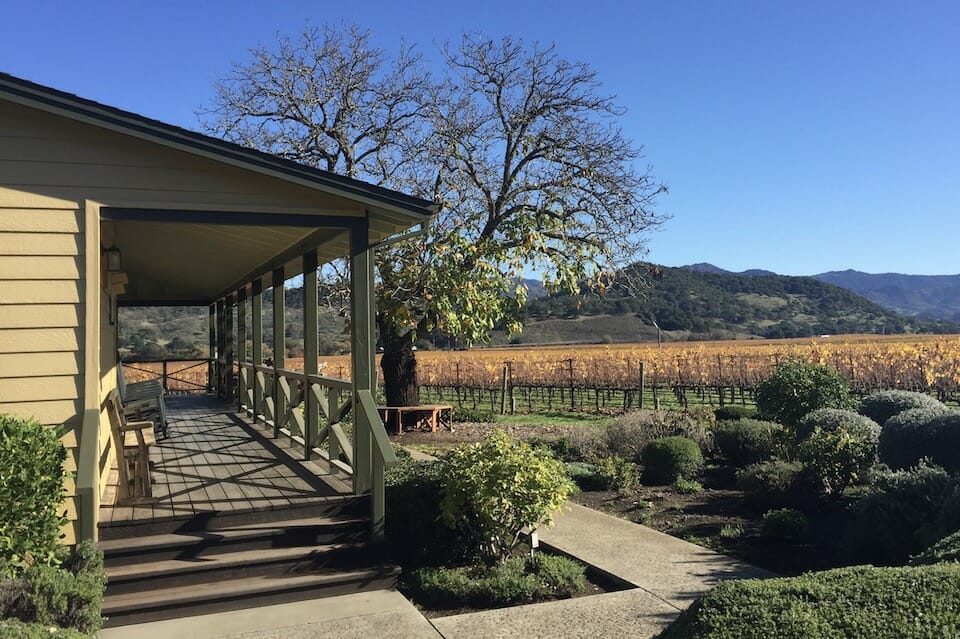 The Modern Era
A few years later, in 1978, Alex and Bob Phillips moved their young family from San Francisco to the Napa Valley, ushering in the modern era for Vine Hill Ranch. Duckhorn, Cakebread and Robert Pepi all released vineyard-designate wines with the 1981 vintage, the first single vineyard wines off the ranch. Although not a vineyard-designate bottling in name, the Etude Oakville Cabernet Sauvignon, then made by Tony Soter, was all Vine Hill Ranch fruit, as it remains to this day.
A significant turning point arrived in the mid-1980s. By then, 75% of Vine Hill Ranch was planted to AxR1 rootstock, which unexpectedly proved to be especially vulnerable to phylloxera and caused well more than half of Napa Valley vineyards to be replanted. Facing daunting costs to redevelop and ferociously wanting to avoid debt, the Phillips family sold 40 acres to Andy Beckstoffer for the site he renamed Missouri Hopper. The year was 1991. "We had intense discussions in the family at the time," explained Bruce Phillips, who was involved for many years in the business before formally taking over from his parents in 2004. "In the end, my father wanted to avoid debt at all costs, so we sold the front 40 acres. I can't say I blame him given the enormous expenses we incurred to redevelop the vineyard."
The Phillips family embarked on an ambitious project to redevelop the vineyard. "I can't underestimate the role Tony Soter [then at Etude] played in helping us understand the subtleties of this place," Phillips continued. In 2004, Vine Hill Ranch was divided into 12 distinct sections. Today, that work has been taken further, leading to a total of 18 different blocks and parcels across 70 planted acres.
One of the discoveries of all that work is Block 1, which became the source of the Vecina Cabernet in Bill Harlan's new BOND range of Cabernets. "When I was a kid, Block 1 was a shrub," Phillips explained. "Later, we found a series of terraces extending into the hillsides that were once planted to grapes, which made us totally rethink what viticulture was like here in the past. We planted Block 1 in 1991, but the terrace configuration was not optimal, as we could not manage sun exposure well. It was a time of significant redevelopment in Napa Valley, and my dad was limited in terms of what he could get for rootstocks. We ended up with mostly 03916 rootstock, which is both delicate and also needs a lot of water."
The last vintage for the old Block 1 was 2011. A subsequent development removed the terraces and transformed the land into a more conventional hillside site planted with nine combinations of clones and rootstocks. Vine Hill Ranch is one of only few places in Napa Valley planted with the Eisele clone of Cabernet Sauvignon.
Napa Valley's Paradigm Shift
At the same time, a fascinating shift was taking place in Napa Valley. The modern, Post-Prohibition era was dominated mostly by large estates that followed a Bordeaux-like estate model. Wineries like Inglenook, Beaulieu Vineyard, Charles Krug and Mayacamas promoted brand more than place. Even higher end wines like BV's Georges de Latour or Mondavi's Reserve were anchored to a brand rather than to a specific site. There were some single-vineyard Cabernets. Heitz's Martha's Vineyard Cabernet, Freemark Abbey's Bosché and the Diamond Creek wines come to mind as notable exceptions.
The early and mid-1990s saw a significant shift towards single-vineyard Cabernets. David Abreu and Ann Colgin were among the new wave of producers who specifically focused on site. Bill Harlan created his BOND program with the explicit mission of highlighting hillside vineyards through small production wines inspired by the ethos of Burgundy. Andy Beckstoffer took that a step or two further by acquiring historically significant parcels, branding his vineyards and then charging a premium for his fruit. As all this happened, the first seeds were planted for what would become an estate wine at Vine Hill Ranch.
Fast forward to today. It is next to impossible to keep up with all the new wines that keep popping up in Napa Valley, almost all of them vineyard-designates from top sites made by ambitious winemakers who are intent on showcasing the essence of site.
Building the Team
The Phillipses put together an all-star team to execute their vision. Veteran vineyard manager Mike Wolf farms the ranch like a garden. Wolf got his start working with Andy Beckstoffer and now owns a vineyard management company that farms more than 500 acres throughout Napa Valley, including a number of elite sites such as Scarecrow, Meteor and Detert.
Françoise Peschon is a winemaker's winemaker. Trained at UC Davis and the University of Bordeaux, Peschon first gained prominence at Araujo Estate, where she worked until 2013. Visit at harvest and you will meet someone whose purplish, stained hands are those of someone who is physically making wine and showing up for 4am picks rather than delegating to assistants. Her passion for this site and the wines she makes from this land are palpable.
The Art of the Blend
Most winemakers who source fruit at Vine Hill Ranch get 1 or, at most 2, blocks. The VHR Cabernet Sauvignon is the only wine that draws fruit from the entire ranch. "In 2008, we carved out one acre from each of the blocks to make our own wine. As time passed, we learned what works best for the wine we want to make." Phillips explained. Today, the core blocks for the VHR Cabernet Sauvignon are Blocks 3, 4 and 6. Blocks 3 and 4 are towards the front of the property and are benchland blocks. Block 6 and its subdivisions lead into the hillsides.
Blocks are harvested, vinified and aged separately. One of the most fascinating tastings I do each year is tasting of the blocks prior to blending. Some of those blocks ultimately make it into the wine and some don't. The wines see 28 to 35 days on the skins. Time in barrel is 20–21 months for the Cabernet Sauvignon and an extra 12 months for the Extended Barrel wine. New oak was 100% for the first three years but is now closer to 75%.
The Next Generation
The growing reputation of the vineyard, the success of the VHR Cabernet Sauvignon and a greater focus in special sites in general have all brought increased attention to the ranch. That has all happened very quickly. When I started covering Napa Valley wines a dozen or so years ago, Vine Hill Ranch (the vineyard) did not enjoy anywhere near the status it does now, rightly or wrongly. Today, things are quite different. Fruit prices have increased, leading to a pretty significant transition as some of the older, traditional players get priced out while young, ambitious winemakers take over blocks as they become available. One of these moments happened in 2016, when the vineyard started opening to new buyers, including TOR and Accendo. After 43 years, Cakebread stopped purchasing fruit in 2020, which created availability in a number of benchland blocks. Nigel Kinsman, Helen Keplinger, Sam Kaplan, Maayan Koschitzky and Maya Dalla Valle (for DVO) are among the young, artisan winemakers who are now sourcing Vine Hill Ranch fruit.
The Tasting
This past October I sat down with Bruce Phillips, Françoise Peschon and Mike Wolf at the Phillips family home to taste through all the wines, starting with the 2008 and finishing with the latest addition to the range, the Extended Age VHR Cabernet. The 2008 and 2009 are perhaps a bit less impressive than they were at the outset, but that is not unusual for new projects. Starting with 2010, the VHR Cabernet Sauvignon has been exceptional to profound. My favorites remain 2016, 2013 and 2010, all of which are also among the best wines made in those vintages, three of the best in the last several decades. The VHR Cabernet Sauvignon is a special wine from a special place made by a family with a deep connection to the land, which is where it all starts. That's exactly what the wines in this vertical tasting conveyed.
---
2021 Winemaker of the Year – Francoise Peschon
Each and every year I have the immense privilege – and it is a privilege – to visit leading wineries all over the world and to taste with many talented winemakers. It's a long list. The Winemaker of the Year award is meant to recognize someone whose achievements transcend craft, someone who stands apart from the crowd. This year's winner is Françoise Peschon.
Trained at UC Davis and the University of Bordeaux, Peschon first gained prominence at Araujo Estate, which is where I first met her more than a decade ago. Following the sale of Araujo Estate in 2013, Peschon began working on smaller projects with a very simple philosophy of focusing only on estate wineries. First up was VHR – Vine Hill Ranch, today widely recognized as one of the elite Cabernets in Napa Valley. Peschon then led a massive turnaround at Cornell, taking those wines from not at all interesting to world class in just a handful of years.
Today, Peschon is the winemaker at VHR, Heimark and Matt Morris Wines. She also makes the whites for Bart and Daphne Araujo's Accendo winery. Visit at harvest and you will meet someone whose purplish, stained hands are those of someone who is physically making wine and showing up for 4am picks rather than delegating to assistants. In addition, Peschon is the consultant at Cornell and Almacerro, where she works alongside day-to-day winemakers Elizabeth Tangney and Matilda Scott, respectively, serving as mentor, consigliere and a mother of sorts, all in one.
Unassuming and always generous in giving credit to her colleagues, Peschon has mentored a number of other winemakers, including Graham Wehmeier who was first at Cornell, then at Futo and is now at Diamond Creek, and Rebecca George, who was previously at Kelly Fleming, where the VHR wines were made up until recently. When she is not working on one of those projects, Peschon finds time to make wine under the Drinkward-Peschon label she shares with Lisa Drinkward.
The world of consulting in Napa Valley is big, big business. Consulting winemakers regularly pull in large checks from their clients. Peschon could easily have a larger roster if she desired, but instead she chooses to focus only on clients who meet her strict criteria, not afraid to let those go who don't. It's an admirable approach that has very quietly made her one of the most influential and highly respected winemakers in Napa Valley, and my Winemaker of the Year.
---
Napa Transformation Exported
Bruce and Heather Phillips of Vine Hill Ranch in the Napa Valley were in London recently with a strong sense of purpose. 'We're on a mission to show Napa Valley as it really is now', said Bruce. 'We want to open collectors' eyes to how it's changed since the 1990s. There has been an evolution, even among producers who used to make big, extracted styles of wine… New drinkers initially came into the market wanting easy-to-appreciate wines, but that's changing. We've gone from big Meritage blends to nuanced single-vineyard expressions.'
Visits to China in 2017 and 2019 planted the idea of exporting their wines. 'We saw a lot of high-volume, ordinary wines being presented as high quality', said Bruce. 'We were frustrated that Napa Valley isn't presenting its finest face.' So, believing their own Napa Valley Cabernets to be high quality, a belief echoed around 'the Valley', by me, and by their fastidious new UK importers, Justerini & Brooks, they started sending a few cases to Britain, which they describe as 'the most competitive market in the world: ground zero'.
'In the 1990s there was a proliferation of new brands [in Napa Valley], many of them launched by people who didn't have a lot of experience', said Bruce. 'But now the most noted estate programmes are dialling back on their wines. There's also the locavore movement.' Heather chimes in: 'Farm to table'.
Authenticity and traceability are certainly 21st-century virtues. And with them has come a notable rise in vineyard-designated wines globally.
Which is where Vine Hill Ranch comes in. In the foothills of the Mayacamas Mountains, on the cooler, east-facing side of the valley, in the southern reaches of Oakville, the site is so admired that its name features on many august Napa Valley labels. The Phillipses see themselves more as grape growers than wine producers. They sell between 85 and 90% of their grapes to just 13 vintners, and it is only since 2008 that they have made their own wine, called VHR, Vine Hill Ranch to differentiate it from other producers' vineyard-designated bottlings of their fruit.
Bruce's maternal grandfather built the house on the ranch in 1956, prehistory as far as modern Napa Valley wine is concerned. But it was Bruce's banker father Bob who moved to Oakville in 1978 and really cemented the estate's reputation as a source of top-quality Cabernet Sauvignon. He is seen above with Bruce, Heather and his wife Alex when they were voted Grower of the Year by Napa Valley Grape Growers in 2011.
In the 1960s and 1970s Vine Hill Ranch had just one customer for its Cabernet grapes: the famous oenologist André Tchelistcheff, who used them to make Beaulieu Vineyard's seminal Georges de Latour bottling. This wine inspired Robert Mondavi to found his Oakville winery in 1966, kickstarting Napa Valley's boom. Bob, most unusually for the mid 1980s, took the prescient decision to concentrate on Cabernet. This was at a time when white wine in general, and Chardonnay in particular, was all the rage; Chardonnay grapes fetched higher prices than Cabernet.
By now, it had become clear that the then most common vine rootstock, AXR1, offered little resistance to the deadly phylloxera louse. A good three-quarters of Vine Hill Ranch's vines succumbed and had to be replanted. Bob had the foresight to replant entirely with Cabernet Sauvignon. His brother was not convinced; he was more interested in selling a range of grape varieties that matched market needs. This eventually led to the ranch being split in two.
Bob was left with 70 acres (28 ha) of vines that he was determined should be the best they could be. According to his son, 'My father was very good at identifying the right experts. His brightest moment was in the late 1980s when he brought in Tony Soter as a consultant. Tony had his feet in all the great Cabernet sites in Napa.'
Unusually for the time, long before precision viticulture became a thing, soil pits were dug throughout the property and the vineyard was divided into 12 heterogeneous blocks. According to Bruce, 'his vision as a grower was that he wanted to optimise all these various different expressions, with their varied soils, rootstocks, orientations and so on, so as to get the highest price for his grapes'. He added intriguingly, 'People don't often talk about growers and prices, but actually we're all very competitive.'
One sign of the superiority of Vine Hill Ranch grapes was that Bill Harlan, of the esteemed Harlan Estate, had been buying them since 1992. Designated sections of Block 1 and Block 6 of Vine Hill Ranch, pictured at the top of this article at sunset, have been the sole source for Vecina, a mainstay of Harlan's BOND range of singleestate wines, since 1999.
Harlan winemaker Cory Empting told me by email, 'I see Vecina as the wise elder. It has a stoic resolve that is powerful, yet calming. These vines always amaze me with their ability to anticipate and synergise the whims of the natural world without drama. (Examples [would be] 2011, ripening against all odds, 2017 ripening earlier than ever before, allowing us to harvest everything before the fires.)'
Way back in 1974, the Phillips family had begun selling grapes to Mondavi, the man who put California on the world wine map. Mondavi's company produced a vineyard-designated Vine Hill Ranch bottling from 2000 to 2009, but this was abandoned by the new owners, the giant Constellation Brands. Vine Hill Ranch has only just parted company with Cakebread Cellars, to whom they sold grapes for 43 years. These are long-term relationships and Bruce describes those who buy the grapes (listed below) as 'vintner partners' rather than clients. Does he ever turn down a request to buy his grapes? 'Oh yes', he assured me.
Tor Kenward considers himself fortunate to be allotted some grapes for his TOR wines and writes in his forthcoming memoir Reflections of a Vintner, 'The vineyard and its management (led by Mike Wolf) is brilliant', adding by email, 'the vineyard is one of Napa's best. The word is finally getting out.' Paul Roberts of Colgin Cellars, who also buys Vine Hill Ranch grapes, agrees. 'The Phillips are great folks and I do believe that Vine Hill Ranch is a very hallowed site within the Napa Valley.'
The 2020 vintage tested the hundreds of grower–vintner relationships in Napa Valley to the limit. A significant, though rarely mentioned, proportion of grapes was adversely affected by smoke taint thanks to wildfires that ravaged the outskirts of Napa Valley just before harvest. Many vintners refused to buy the fruit they had been buying for years. Only about 40% of growers, including the Phillipses, had crop insurance. Labs throughout the US were overwhelmed by requests to analyse grapes for the compounds associated with smoke taint. Lawyers rubbed their hands. But Bruce was proud to say that '80% of our fruit was delivered. The 2020 wines taste like a warm vintage, but they lack a bit of the vibrancy of 2014 to 2016. They'll be very dense.' The average price paid for Vine Hill Ranch's 2021 grapes, which were unaffected by fire, is apparently $28,000 a ton (c £20,650/€24,200). (The average price of Napa Cabernet grapes is about $8,000 a ton.)
As is common in Napa Valley, Vine Hill Ranch vines are worked by a vineyard management company, in this case that of Mike Wolf. The ranch was his first client when Wolf left Napa Valley's most famous vineyard owner Andy Beckstoffer and went off on his own. When the Phillipses decided to produce their own wine, from a range of different blocks on the ranch, they chose as winemaker Françoise Peschon, who is known for the subtlety and expressiveness of her wines.
She used to make the impeccable wines of Araujo Estate until it was acquired by François Pinault's Artémis Domaines. She now also makes the wines for the former owners' new label Accendo.
Recently in London I tasted vintages from even-numbered years of VHR wine from 2008 to 2018. They were seriously impressive and not overdone. Mid-tasting, Bruce noted intriguingly that 'Napa Valley today is full of egotists who don't have a great deal of perspective, often making mistakes that I've seen already'. He refused to be drawn on who those guilty parties were, and on what those mistakes might be, simply stating that, in this era of water shortages, the fashion for cramming as many vines as possible into an acre should be well and truly over.
He also expressed a sentiment in London with which I can only agree. 'I'd like to see more of our vintners show their wines here and put aside that Napa image of 1990s style of big, extracted wines.' I wonder how many Brits will abandon their prejudices sufficiently to pay more than £200 for a bottle of VHR 2018? They seem happy enough to pay that for a fine Pomerol.
Vine Hill Ranch's vintner partners
Accendo
Arrow & Branch
BOND
Colgin
DVO, a partnership between Maya Dalla Valle and Ornellaia of Tuscany that will be launched soon with the 2018 vintage
Etude
Lail Vineyards
Keplinger Wines
Nigel Kinsman's project with the new owner of Bella Oaks vineyard
Kinsman Eades
Memento Mori
TOR
A new project with Maayan Koschitzky of Atelier Melka
---
Napa Comes to London: VHR, Vine Hill Ranch
Jancis writes: The tasting notes below were taken, from old to young, at a meeting in London with Bruce and Heather Phillips of Vine Hill Ranch in the offices of their new UK importer Justerini & Brooks. I will be writing in more detail about them on Saturday. Note that the wines are usually about 14.8% but don't taste aggressively alcoholic. In fact they taste pretty beautifully balanced. They are made by Françoise Peschon in the underground cellars of the Arkenstone facility at the top of Howell Mountain. (You have to take an elevator down to the production facility apparently.)
The 13 vintners who buy the great majority of the Cabernet Sauvignon grapes they grow sometimes make vineyard-designated wines from them and usually buy specific blocks on the ranch. (There are 12 of them.) But the Phillipses are determined that their own wine should be a blend of fruit from several blocks that best expresses the combination of the estate and the year.
Bruce has designed incredibly detailed labels which reflect the ancient ledgers of what was grown on Vine Hill Ranch long before it was acquired by his maternal grandfather. The labels chart exactly which blocks went into the blend, how many vines there are in each block, and when each block was picked. Oh and the exact yield, in tons per acre.
The debut vintage of 'VHR, Vine Hill Ranch' (sic) was 2008 and only 300 cases were made. The 2016 vintage yielded 925 cases and of the 2018, the vintage recently launched in the UK by Justerini & Brooks, there were a total of 1,100 cases. Justerinis have also been allotted a few cases of older vintages.
2008 VHR, Vine Hill Ranch Cabernet Sauvignon
Full bottle 1,525 g. Cool, challenging season which winemaker Françoise Peschon is on record as saying she much enjoyed making. Luscious deep crimson. A gorgeous, fully mature wine with notes of spice and dried herbs. Lifted and long. Not sweet and thick. Lovely freshness on the end. Round with super-ripe tannins. 18.5 pts.
Drinking window: 2012–2027
2010 VHR, Vine Hill Ranch Cabernet Sauvignon
Cool season punctuated by heat spikes. The Cabernet was slow to ripen and there had to be a lot of leaf removal to encourage ripening. There was also sunburn so the vintage is apparently known for angularity. 'But we like dappled light', according to Bruce Phillips.Still quite a tight nose. There was a note of creosote that was to surface in other vintages on the nose. Deep and plush. Very flattering and really quite ripe. And still quite youthful. Firmer than the 2008. Still muscular. 18 pts.
Drinking window: 2015–2032
2012 VHR, Vine Hill Ranch Cabernet Sauvignon
Very warm, easy year. No frost or heat spikes. High yields. Another wine with that high tone of something mineral. Really transparent. Lifted and somehow very fluid (which may seem a strange tasting note but seems a good indication of the wine's beautiful texture). The little bit of dry tannin on the end suggests this wine still has quite a bit of potential. 18.5 pts.
Drinking window: 2015–2030
2014 VHR, Vine Hill Ranch Cabernet Sauvignon
Very bright, healthy, deep crimson. Very pure nose with an undertow of blackberries. Still quite a bit of tannin and acidity on the finish. Fresh inkiness. Graphite and a dry finish. Vibrant with energy. Light, dry, fine tannins. Really very luxurious and pleasing already. 18.5 pts.
Drinking window: 2018–2035
2016 VHR, Vine Hill Ranch Cabernet Sauvignon
This was the first blend in which Block 7 played no part. And fruit from the steep, replanted-in-2012 Block 1 was included for the first time. Deep purplish, blackish crimson. Impenetrable colour. Quite rich and concentrated on the nose with yeast extract plus that graphite/creosote note too. Dense and still pretty dry on the end. Bit tarry on the finish but the overall impression is somehow, amazingly, very pretty. 18+ pts.
Drinking window: 2022–2040
2018 VHR, Vine Hill Ranch Cabernet Sauvignon
Deep purplish crimson. Rich fruit but still grainy-textured with very marked tannins. Clearly this wine is still developing. Dry not sweet. Very muscular and grown up! But still a baby. 18++ pts.
Drinking window: 2024–2045
---
Vine Hill Ranch: One of Napa Cabernet's Best-Kept Secrets
Bruce and Heather Phillips' little-known Oakville vineyard provides grapes to Napa's elite, and their own estate Cabernet is an authoritative expression of the site
How's this lineup? Bond, Accendo, Kinsman Eades, Lail, Keplinger, Dalla Valle's new DVO project … these are just a few of the producers who source fruit from Vine Hill Ranch.
Don't be surprised if you haven't heard the name. Located in the southern portion of western Oakville, VHR is quietly considered one of the top sources for Cabernet Sauvignon. In a wine world with a preponderance of single-vineyard bottlings, VHR's name doesn't typically appear on labels. And that's OK with owners Bruce and Heather Phillips.
"We're interested in working with winemaker partners who want to make wines that represent the site, and showcase what makes it special. As long as they're doing that, we're fine with it," says Bruce.
The 600-acre site currently has 70 acres under vine. The original 2,500-acre property was purchased by Bruce Phillips' grandfather in 1956, though there's a history of grapegrowing on the site that dates to the late 19th century. Bruce's father, Robert, then helped turn it into an insider's prized source for fruit, starting by providing a good portion of Beaulieu Vineyard's Georges de Latour bottling in the 1960s and '70s.
"It was an interesting time," says Bruce of that period. "My father really wanted to focus on a single varietal, and he knew this was good Cabernet land. But the economics at the time, when Chardonnay was king, kept that plan at bay."
In 1974, Robert Phillips started selling fruit to Robert Mondavi for his reserve Cabernet bottling. A decade later, the younger Phillips finished high school and was working part-time alongside his father. He took a break to try the organic food business and some other pursuits, but the wine bug called him back. After attending U.C. Davis, he returned to work full-time on the family property.
Over the years, a few parts of the property were split off, eventually becoming Promontory and Andy Beckstoffer's Missouri Hopper vineyard, while the heart of the vineyard around the foreman's house and family home stayed intact.
"Along the way we had some conversations about switching from just growers to producers. One idea was to go in whole hog, use the entire vineyard's production and become a 20,000-plus-case winery," says Bruce. "The conversation lasted about 10 minutes. My dad said no way. It was a really scary proposition at the time."
So the Phillips kept on as growers. Then phylloxera reared its ugly head in the mid-1980s. Enter Tony Soter, the former Etude winemaker whose imprimatur is quietly all over Napa Valley's Cabernet history. Soter helped oversee the replanting in the late 1980s due to phylloxera, and after a soil analysis identified a dozen different spots, including some with volcanic ash amid the more typical alluvial gravel/loam mix, varying rootstock and clonal selections were made.
"The economics of the wine industry allowed for it as the demand for Cabernet had begun to outpace Chardonnay," says Bruce. "And Tony really helped put us on the right path. He optimized the site's expression through a single variety."
When working with winemakers today, the Phillips family approaches it as a group ethos.
"It's about a community of winemakers all doing something different, but special, to optimize the vineyard's expression. We talk about what kind of wine they want to make, which then helps us figure out which parts of the vineyard they should work with," says Bruce.
The flatter portions that extend toward Highway 29 provide a rich fruit profile with silky tannins, while the hillside portion that ranges up to 600 feet higher up provides a darker fruit profile and more intense tannins. Mike Wolf farms the property, and the site is managed according to organic principles, though it isn't certified.
While all of the producers who source VHR's fruit are connected by a thread of vibrant and vivid dark blue and black fruit in their respective wines, they each have their own style. And VHR did finally join the producer ranks; its own Cabernet bottling debuted with the 2008 vintage.
The Phillips family keeps a modest 15 percent of the production for their estate bottling, made by winemaker Françoise Peschon, and it's a wine that also provides a stark and authoritative example of the site. The Vine Hill Ranch Cabernet Sauvignon Oakville 2018, a 100 percent Cabernet Sauvignon bottling, is captivating from the start, with a gorgeous display of cassis, warmed plum sauce and macerated cherry and boysenberry fruit flavors, all supported by a racy graphite spine. Extra violet, warm earth and singed alder notes create a backdrop for the fruit on the very lengthy and well-defined finish. And despite the heft, there's latent energy as well. It's a very serious Cab, from a very serious vineyard ….
---
2019 Winemaker of the Year: Francoise Peschon
In the dimly lit wine cave, Francoise Peschon is extracting small samples of wine from barrels. She bends over each barrel, removing the rubber bung, then plunges a plastic thief into the belly and lets it rest for a moment, acclimating. With a flick of her thumb, the thief's chamber fills with deep, dark Vine Hill Ranch Cabernet Sauvignon.
All the barrels contain Cabernet — that's pretty much all Vine Hill Ranch grows — and the first barrel she taps holds 2018 Cab from Block 4 of the Vine Hill Ranch vineyard in Napa's Oakville AVA.
"I always know when it's Block 4," says Peschon, the consulting winemaker at Vine Hill Ranch. It's racy, acid-driven, raspberry-flavored, a very un-Napa-like Cabernet. Next is a barrel holding the fruit from Block 6A: fleshier, more herbal, recalling the chaparral that surrounds the vines. Block 6L is a little denser, tinged with graphite and currants.
And then, the powerhouse: Vine Hill Ranch's Block 6M. It's monolithic, huge, dark-fruited. An avalanche of tannins parches the mouth in its wake. "This wine is never graceful," says Peschon. "It is my muscular, brooding wine. I don't always love it, but it's a part of the blend."
Sure enough, when Peschon pulls a sample of a first attempt at a blend — a combination, differently proportioned each year, of wine from all Vine Hill Ranch's different sections — the brute force of 6M does not protrude. I can't pick out Block 4's tart raspberry, either. I can still sense that unmistakable chaparral aroma; I can still feel the firm, precise structure that the acid and tannins have built. But the counterweights have met in the middle and become something altogether more compelling.
"I'm never trying to create the 'best wine,'" Peschon, 56, says as she puts her nose to her glass. Her unkempt, slightly frizzy brown bob belies her preternaturally calm, quietly confident demeanor as the consulting winemaker for a half-dozen of Napa Valley's premier labels. "I just want to make something that captures the entire ranch," from its flatlands at the valley floor through its sylvan hillsides that reach up into the Mayacamas Mountains.
The still-nascent 2018 Vine Hill Ranch blend is not a flashy wine, but it's also not a boring one. It's a wine that perfectly represents modern-day Napa Valley — this is Oakville Cabernet Sauvignon, after all, the quintessential expression of rich, opulent Napa Valley Cab — but it also, in a way, stands in defiance of it, by emphasizing the vineyard's heterogeneity, by coaxing out nuance at the expense of power.
Respectful of the classics, but subtly subversive: That, in a phrase, is why Francoise Peschon is The Chronicle's 2019 Winemaker of the Year.
Francoise Peschon became the winemaker for Vine Hill Ranch in 2008, a challenging harvest. "I worry about a lot of things," says Peschon, driving up a hill toward Heimark Vineyard in Calistoga. "What is Napa Valley today? What have we become?"
Napa Valley is America's preeminent wine region, but lately that preeminence has looked vulnerable. Wine prices are astronomical, averaging about $80 for a bottle of Cabernet. No one but enormous corporations can afford to buy vineyards. The valley's land-use politics are increasingly thorny. A downturn for the wine market looks like it could be imminent. Millennials aren't interested in visiting. Not to mention the ongoing threats of water scarcity, rising temperatures and wildfires.
The Napa Valley machine is still running. But within a generation, could it break?
Peschon represents the best chance Napa's got at remaining vibrant. Best known as winemaker for Araujo Estate from 1993 to 2013, she is now a consultant, making the wines for Heimark, Cornell, Accendo, Matt Morris and Piedra Hill in addition to Vine Hill Ranch, plus a small label, Drinkward Peschon, which she co-owns with her best friend, Lisa Drinkward.
But unlike many of Napa's premier winemaking consultants, known for imprinting a homogeneous style on all the wines they touch, Peschon has no signature stamp. She believes "a winemaker is a means to an end," she says. "You have to justify the site." Her wines, though mostly Napa Valley Cabernet, are each as distinctive as those individual Vine Hill Ranch barrels.
It's a terroir-first, ego-second approach — an approach that's become all too rare in Napa.
"There are a lot of consulting winemakers whose faces you see everywhere, they're always in the press," says Drinkward. "Francoise is not that person. She's an under-the-radar personality. But she's so admired here. Everywhere you go in Napa, everybody knows (her)."
With 34 harvests under her belt, Peschon's scope of influence is just as great as big-name consultants like Philippe Melka, Celia Welch and Helen Turley, but she's uninterested in being a celebrity winemaker. "That's such an American phenomenon, that winemakers are like movie stars," says Peschon, the daughter of Luxembourg expats. "I just think it's a) ridiculous and b) boring."
"Very few people in Napa are as liked as they are respected," says Matt Morris, a photographer and owner of the eponymous Charbono label whose wines Peschon makes. But, he says, she's incredibly humble: "Every wine dinner where she's supposed to be the guest of honor, she's back in the kitchen doing dishes."
It's in vogue for winemakers to deny that they impose "style" on their wines, to say they're merely letting the vineyard speak. Peschon's tendency to downplay her own role is earnest, but it's also not entirely accurate. "She says it's all the vineyards," says Accendo Cellars owner Bart Araujo. "Well, I'm sorry, it's not quite that simple. There has to be a shepherd. Francoise seems to have this intuitive ability to respect the science but also move beyond it, to a place of creativity."
Anyway, "style" isn't the best way to characterize the unifying thread between Peschon's different wines. What connects them, rather, is her openness to letting them be themselves, even when that doesn't result in the sort of wine that's popular in Napa Valley these days.
The wines might be rustic, with tough tannins, or they might be slight and lean. They're often green, embracing herbal flavors. "I love wines that take on their environment," Peschon says. "I want to foster ecosystems — microcosms." She was drawn to the Cornell Vineyard in Sonoma County's Fountaingrove AVA, for example, whose Cabernet she makes with winemaker Elizabeth Tangney, because the wine reflects its rugged mountain habitat: mint, peat, tea leaf.
Peschon's approach has quietly been shaping and challenging the Napa Valley wine industry for the last three decades.
Peschon grew up in Los Altos Hills. Her parents had come to California from their native Luxembourg when her father won a Fulbright fellowship to Stanford. In true European fashion, wine was a part of the family's table at both lunch and dinner. Her parents loved Wente Grey Riesling. "Everyone thought they were alcoholics," she laughs.
When she enrolled at UC Davis, she already knew she wanted to become a winemaker. "It's the perfect job," she says. The idea of working outside and experiencing the seasons — and tasting wine, of course — attracted her. Luckily, she had one very useful connection: Her uncle worked for the palace in Luxembourg and helped her land a job with Chateau Haut-Brion, which is owned by Prince Robert of Luxembourg and long considered one of Bordeaux's finest wineries. She spent her first year out of college, 1985 to 1986, at Haut-Brion — an enviable entry on any young winemaker's resume.
After returning to California, Peschon worked for Stag's Leap Wine Cellars for six years. Then she went to Rombauer but soon discovered she would need a job with more flexibility. "I was four months pregnant and didn't know it," she says.
Winemaker Tony Soter, who was using custom-crush space at Rombauer, saw a way to help. He was immediately impressed by Peschon's winemaking sensibilities. His lasting image of her, he says, is of Peschon bent over a small fermenting vat of Cabernet, with both arms thrust in to her elbows. That intimate contact with the wine was "all in an effort to get a better sense of its temperature and put her nose close to the escaping gaseous aromas," says Soter, who now owns Soter Vineyards in Oregon. "That's when I knew she would be great at what she does."
Soter suggested that Peschon meet with Bart and Daphne Araujo. They had recently bought the Eisele Vineyard, a historic property in Calistoga that had produced some of Napa's greatest wines in the 1970s from Joseph Phelps and Conn Creek, and had fallen into disrepair. They wanted to revive it, but there wasn't yet enough work to bring on a full-time winemaker. Would Peschon come on part time? The arrangement had obvious appeal for the new mother.
Peschon joined Araujo Estate in 1993. That year, she and her husband, Michael Straka, who works for a life-sciences company, had their first child, Isabelle; two years later their son Matthew was born. When the children were a little older, she resumed full-time work. (Both children now work in the wine industry.)
"From the beginning, we loved her approach," says Daphne Araujo. "She's always been more interested in producing a wine that reflects where it came from than making huge changes to what's in the tank."
The Araujo Estate wines were one of the great success stories of the 1990s, considered among the so-called "cult Cabernets," an elite group of expensive, exclusive, elusive wineries that all came to prominence in the same moment. Araujo was always the odd cult out, strikingly different from peers like Bryant, Harlan, Colgin and Screaming Eagle. The wines were more savory than they were fruity, restrained in their weight and power.
"The critics didn't see the Araujo wines as typical of California," says Bart Araujo. They never received a 100-point score from either Robert Parker or Wine Spectator. (In 2013, the owners of Bordeaux's Chateau Latour bought Araujo Estate. The Araujos launched a new winery, Accendo, and brought Peschon along.)
Meanwhile, in 2000, Peschon and Drinkward started making a little wine on the side. They have always made just one cuvee, a Cabernet called Entre Deux Meres, or "between two mothers" (a play on the Bordeaux subregion Entre Deux Mers, "between two seas"). Originally intended as a college fund for their children, the wine now funds charitable donations.
"Who's the audience for Napa wine? Old white men," Peschon says. "So you think — how can you do something good with this?" The wine has supported Planned Parenthood, Meals on Wheels, Family House, the Napa Valley Farmworker Foundation, plus foundations funding research for Alzheimer's, from which Peschon's father suffered.
In 2008, Peschon became the winemaker for Vine Hill Ranch, whose owners, the Phillips family, had been selling grapes since the 1960s but were only just now launching their own wine brand. The weather that year was so strange — cold, then punctuated by freak heat spikes, plus threatened by wildfire smoke — that owner Bruce Phillips almost considered pulling the plug. But Peschon cautioned patience, welcoming the understated, reticent wine that the vintage offered.
"Francoise is just incredibly adept at taking all these different components and weaving them together," says Phillips.
She doesn't think of it in such complicated terms. "Challenging vintages are the most fun to make," she shrugs. Today, the 2008 Vine Hill Ranch Cabernet Sauvignon tastes like a walk in the woods: It's all sage and bay laurel, carried by a focused, piercing line of acidity.
As much as Peschon's way suggests a promising path forward for Napa Valley, she's all too aware of the obstacles her community faces. The unstoppable trajectory toward higher prices, the corporate takeover of family vineyards, the lack of interest from Millennials — it is all adding up to something of an existential crisis for America's most famous wine region.
Peschon gets this. "I worry about where our workers are living," she says. Whereas Calistoga used to be affordable, vineyard and winery workers are forced to commute from Santa Rosa and Fairfield.
"I'm worried we've forgotten where we came from," she continues. "Today everyone just wants to talk about these new little brands," many of them priced enormously high. What about the land-owning families that have consistently grown and made good, honest wine for decades, slowly establishing Napa Valley's reputation without glitz or flash?
Her approach to winemaking isn't flashy, either. And she's made a point of letting younger winemakers, many of them women whom she has mentored, also take that path. "Francoise is at her core a mother," says Morris. "If you look at her projects, they're stacked with women that she has placed as winemakers," like Tangney at Cornell and Matilda Scott at Piedra Hill.
Make no mistake, though. Peschon is still a Napa Valley winemaker, with all its inherent limitations. Her wines are expensive. Even the Entre Deux Meres, which at $75 represents one of the valley's best bargains, is a huge splurge for most people.
Will it require a revolution to correct Napa Valley's course? Will it take a more subversive approach than Peschon is offering? Maybe the future lies in climate change-resistant grape varieties like Touriga Nacional. Maybe the craze for natural wine will render Napa less and less relevant, or maybe the large corporations' growing hold on its land will seal the valley's fate.
Maybe. But then again, Peschon's steady, faithful course has been its own sort of revolution in Napa Valley over the last 34 years — a revolution fought not in public, not in magazine headlines, but in the private daily work of making wine. Waves of critics, fads and fickle customers never swayed her from her true path. And maybe that's the path that Napa needs now. "I just have to believe," she says, "that in the end, the classics don't go out of fashion."
About the series: Every year, The Chronicle recognizes a winemaker who has shown exceptional talent, vision and dedication to his or her craft. We look for delicious wines, of course, but also for people who have demonstrated industry leadership and the courage to innovate. More than anything, we look for winemakers whose stories illuminate the larger stories playing out in the California wine landscape. The Winemaker of the Year tells us what it means to be a California winemaker today.
---
Vine Hill Ranch: The Historic Vineyard Takes Center Stage
Vine Hill Ranch is often labeled a "quiet, behind-the-scenes" vineyard. The Phillips family, who own and operate the ranch, have long heard similar descriptions throughout the industry and press. The offstage characterization is understandable. For decades, the majority of its fruit has gone without designation into other great Cabernet Sauvignon wines, such as Andre Tchelistcheff's 1968 BV Georges de Latour Private Reserve, Robert Mondavi's 1997 Cabernet Sauvignon Reserve and Bill Harlan's 2012 Bond Vecina.[i]
The vineyard began garnering broader attention in 2008, with the introduction of the estate VHR, Vine Hill Ranch Cabernet Sauvignon. While 90 percent of Vine Hill Ranch's fruit still goes to other producers, the estate VHR wine repeatedly attracts the spotlight. All ten VHR vintages since its inaugural 2008 release have earned ratings north of 95 points, with Antonio Galloni awarding the 2016 a perfect score.[ii]
Achieving continuous critical acclaim should come as no surprise to most wine professionals. The vineyard has an impressive pedigree that dates back to the mid-nineteenth century.
An Agricultural Gold Mine
In the early 1850s, California was celebrating its statehood and Napa Valley was bustling with settlers as their plows cut through the mostly virgin land. Enormous cattle herds grazed on the valley's wild grasses. Beautiful wildflowers and magnificent oak trees dotted the landscape, which had long been occupied by local Indian tribes who hunted and gathered more than they farmed. Early settlers built humble homes miles apart and some had private plantings of fruit trees and grapevines. [iii]
The area was an agricultural gold mine to pioneers. More than 120 years before the Judgement of Paris, Napa Valley's exceptionally fertile soil was earning the highest levels of praise. It was labeled "one of the richest agricultural districts in the state" by U.S. Boundary Commissioner John Russell Bartlett, who toured the valley in 1852. "If this romantic valley were transferred to the older countries of Europe, it would be taken for the domain of a prince or a nobleman," he wrote. [iv]
A well-known Napa Valley resident at that time was George Yount. About a dozen years earlier, he received a 12,000-acre land grant from the Mexican government that included present-day Oakville. Yount described the land around his "Caymus Rancho" as "some of the most fertile in the world—it would be difficult in any country to find land, in point of fertility, superior to that in Napa Valley." [v]
In the late 1840s, Yount sold 650 acres of Caymus Rancho—just west of today's Highway 29 near Yountville—to his former Missouri neighbor Charles Hopper for a discounted per-acre price of $1.50. Along the foothills of the Mayacamas Mountains, near groves of live oaks and madrone trees, Hopper eventually planted about 20 acres to grapevines. Hopper's humble vineyard on the present-day Vine Hill Ranch set in motion a farming pedigree that includes Hopper, Whitton, Hahn, Taddei, Kelham and now Phillips. [vi]
Location, Elevation and Microclimate
Vine Hill Ranch is tucked away in the southwest corner of the Oakville appellation benchland, approximately 200 to 300 feet elevation. The well-draining rocky loam is comprised of quartz-rich marine sediments with sodium and potassium minerals. [vii]
Being over 70 acres in scope creates a palette reflective of distinct soil characteristics and compositions. The vineyard is at the base of an alluvial fan, bordered by two streams, dotted with numerous knolls of rhyolitic deposits, and surrounded by hundreds of acres of wildlands.
The microclimate features a cool morning fog from San Pablo Bay that often reaches the vineyard. Tucked along the base of the Mayacamas Range, the vineyard's location results in less intense afternoon sun exposure. The addition of an afternoon breeze means a slightly cooler grape growing experience compared to Rutherford, St. Helena and Calistoga.
A unique trellising system augments the microclimate. "Interestingly, a fair amount of the vineyard is trellised quite high off the ground," wrote Kelli White in Napa Then & Now. Viticulturist Michael Wolf, who has managed the vineyard since 1998, explained the reason to White. "There is an average four- to five-degree difference in the daily temperature between fruiting zones that are two feet vs four feet off the ground. This difference helps slow down the ripening and promotes elegance and acidity in the elevated grapes." [viii]
"Combined, all of these elements consistently create winegrapes of singular quality and character," VHR Managing Partner Bruce Phillips told The Napa Wine Journal.
Seven-block Winemaker's Toolkit
Approximately 71 acres, or roughly 16 percent, of the 450-acre ranch is planted to vine. The vineyard is split into seven distinctive blocks with all but one being exclusively Cabernet Sauvignon (Block 3 is about 21-percent Petit Verdot). To make the estate VHR wine, one-acre plots from selected blocks are custom vinified and aged, then uniquely blended with the technical harvest details outlined on each vintage's wine label. The separate blocks contribute different characteristics to the wine with "fruit from our higher vineyard blocks exuding an earthy, forest floor chaparral quality—the sloping grade, gravelly soil and most mature vines produce intense, concentrated and expressive black fruit," according to the VHR website. "Blocks on the lower benchland, with its deep, loamy soils and younger vines, yield bright fruit flavors and fine tannins full of verve and energy." [ix]
Wine professional Karen Ulrich provided the best decoder ring for deciphering the seven VHR blocks. In 2012, she wrote:
Located near the Valley Floor, Blocks 2-4 are the estate's "benchland" blocks that yield fruit that is red in character, and bright with soft and supple tannins. At 300-400 feet above sea level, these vines receive the moisture that comes downslope, which in turn informs the density of the plantings and the choice of selected clones. With 1,000-1,400 vines per acre, the "benchland" blocks can be twice as dense as those on the hillside. And while Blocks 1 and 6, which are located on the hills of the Maycamas Mountain Range, average 700-750 vines per acre, they produce grapes that bring structure to the wine with big tannins and notes of dark fruit, with nuances in between.
On the northern boundary, Block 7 is the smallest of the lots, at 5.72 acres. Located on the watershed of the Maycamas, this Block contains the highest mineral content. With roots that reach 10-15 feet deep, the soil here is rich with cobblestones, yielding fruit that is high in minerality.
As the estate's oldest and most historic plot, Block 1 was originally planted to vines in 1873, and most recently replanted in 1990, post-phylloxera when, Bruce said, "my father brought the vineyard back." Terraced just as the plot was back in 1873, Block 1 could have yielded another 40 years of fabulous wines, but it is currently out of commission. Now planted to a single clone and a single rootstock, Block 1 is undergoing a transformation. Employing eight clones and rootstocks, VHR is redirecting the terracing from the contour of the hill that it now follows, to rows that travel up and down the hill. During the 1990s the farming equipment was big and heavy, but now that technology has changed the rows can be more tightly spaced and in-line, which will yield better and more consistent fruit quality with optimal exposure. And while the Block is now lying fallow, the stakes and rootstocks will be in place next summer, and the grafts will be added the following spring in 2014. [x]
Three Generations of Progress
In 1959, Bruce Kelham, a San Francisco-based architect and rancher who played a role in the establishment of the Point Reyes National Seashore, acquired more than 1,000 acres of land in Napa Valley, which he named Vine Hill Ranch. In the 1960s and much of the 1970s, the property was primarily farmed for hay and walnuts, with the balance dedicated to winegrape.
In the late 1970s, the second generation—Alex (Kelham) and Bob Phillips—directed a ranch renovation project that transitioned the bulk of farmland to grapevines. The vineyard featured a variety of white and red winegrape varieties then. A decade later, following the phylloxera infestation of the late 1980s, the land was replanted almost exclusively to Cabernet Sauvignon. "Bob transformed Vine Hill Ranch into a world-class vineyard," according to his 2014 obituary. "Widely respected for his kindness and integrity, Bob forged solid and long-lasting partnerships with leading wine producers including Araujo Estate, Cakebread Cellars, Duckhorn Vineyards, Etude, Harlan Estate, Lail Vineyards and the Robert Mondavi Winery. He became an integral part of the Napa Valley and dedicated himself to agricultural land preservation and to the community." [xi]
In 1996, Andy Beckstoffer, who is "very careful to buy … historically significant vineyards," acquired a large section of the vineyard just west of Route 29 and named it Beckstoffer Missouri Hopper. [xii]
In the 2000s, the third generation—led by Bruce and Heather Phillips—assumed a more active role in vineyard operations and brought with them a vision to create a true wine of place from the vineyard. Following years of planning and preparation, the inaugural 2008 commercial vintage of the VHR estate wine was released. "Moving into winemaking closes the loop," said Bruce Phillips at the Napa Valley Grapegrowers 2011 Budbreak Conference. [xiii]
The inaugural VHR release and every vintage since has been master-crafted by Francoise Peschon, who studied at the University of California Davis and apprenticed at Chateau Haut-Brion before serving as winemaker for 15 years at Araujo Estate. Shortly after its release in 2011, the 2008 vintage earned 95 points by Antonio Galloni, who wrote, "Vine Hill Ranch has to be one of the most exciting debuts in Napa Valley." [xiv]
Like a decades-long relay race, each generation of Vine Hill Ranch leadership has played a vital role in the vineyard's success. The first generation acquired the land, the second generation dedicated the land to vine, and the third generation launched the estate wine brand. Land lineage and continuity of care dating back to Napa's settlement, coupled with high-integrity generational influence, translates to an extraordinary history and remarkable wine.
---
[i] "Phillips Family Named Napa Valley Grower of the Year," The North Bay Business Journal, March 30, 2011. The journal published a story quoting Napa Valley Grapegrowers President David Beckstoffer as saying the Phillips family "quietly represented the best of what we as growers hope to be." Kelli A. White, Napa Valley Then & Now (Rudd Press, 2015), 1147. Sommelier Kelli White wrote in her tome that Vine Hill Ranch "operated behind the scenes in Napa Valley, acting for decades as a significant, though often uncredited, source of grapes for Napa's best cabernets." David Rosengarten, "Vine Hill Ranch: The Quiet Superstar Has Been Steadily Producing Napa's Finest Grapes for Decades," Forbes, April 9, 2018. In 2018, Forbes magazine published an article titled "Vine Hill Ranch: The Quiet Superstar Has Been Steadily Producing Napa's Finest Grapes for Decades."
[ii] "Recognition," Vine Hill Ranch, accessed October 12, 2019, https://vinehillranch.com/wine-of-place-recognition.html.
[iii] John Russell Bartlett, Personal Narrative of Explorations and Incidents in Texas, New Mexico, California, Sonora, and Chihuahua, Vol. 2 (New York: D. Appleton & Company, 1854), 14-18. The homes of Joseph Osborne and Edward Turner Bale's widow are described as having grapevines and fruit trees.
[iv] Bartlett, Personal Narrative, 16.
[v] Charles L. Camp, ed., George C. Yount and his Chronicles of the West (Denver: Old West Publishing Company, 1966), 153.
[vi] Franklin Beard, ed., Charles Hopper and the Pilgrims of the Pacific (La Grange, California: Southern Mines Press, 1981), 96. See also Charles Camp, George C. Yount, 165.
[vii] "Vine Hill Ranch," Everyvine, accessed October 12, 2019. (intext link "Everyvine" links to http://www.everyvine.com/org/Phillips_Family_Farming_LLC/vineyard/Vine_Hill_Ranch/) Jonathan Swinchatt and David G. Howell, The Winemaker's Dance: Exploring Terroir in the Napa Valley (University of California Press, 2004), 102.
[viii] Kelli A. White, Napa Then & Now, 1149.
[ix] Vine Hill Ranch Vineyard Map, Vine Hill Ranch, accessed October 12, 2019, https://vinehillranch.com/images/vhr-seven-blocks/VineHillRanch_VineyardMap.pdf. Vine Hill Ranch, Our Estate Vineyard, accessed October 12, 2019, https://vinehillranch.com/vhr-seven-blocks.html. The 350 acres that comprise Vine Hill Ranch today is about one-third the size of the original property that Kelham purchased in 1958. Two-thirds of the property has been sold and is now MBar Ranch, Promontory, Harlan Estate, Missouri Hopper and more.
[x] Karen Ulrich, "VHR and the Art of Orchestrating the Seven Block Toolbox," T. Edward New York Wine Blog, December 13, 2012. Republished at Articles about VHR, Vine Hill Ranch, https://vinehillranch.com/wine-of-place-recognition.html. In his Napa map series, Antonio Galloni considers Block 1 "arguably the most stunning."
[xi] "Three Generations," Vine Hill Ranch, accessed October 12, 2019, https://vinehillranch.com/farming-heritage-three-generations.html. William Robert (Bob) Phillips obituary, San Francisco Chronicle, October 31, 2014.
[xii] William Andrew Beckstoffer, "Premium California Vineyardist, Entrepreneur, 1960s to 2000s," an oral history conducted in 1999 by Carole Hicke, Regional Oral History Office, The Bancroft Library, University of California, Berkeley, 2000.
[xiii] "Budbreak Conference in the Napa Valley," WineBusiness.com, April 21, 2011. (intext link for "Winebusiness.com" lands here– https://www.winebusiness.com/blog/?go=getBlogEntry&dataId=86694.
[xiv] Antonio Galloni, Robert Parker's The Wine Advocate, 198, December 22, 2011.
---
Antonio Galloni, Vinous Media, vinous.com
Dec. 2018
VHR, Vine Hill Ranch
These are two magnificent wines from VHR. Proprietors Bruce and Heather Phillips, along with their team led by winemaker Françoise Peschon and vineyard manager Mike Wolf, are making some of the most compelling wines in Napa Valley. The 2016 is a majestic, regal wine that captures the essence of this great Napa Valley vintage. I was perhaps even more impressed with the 2017, which is one of my favorite wines of the vintage so far. As it turns out, I happened to visit the Vine Hill Ranch on the last day of harvest for the estate wine, September 23 (some clients picked later), and tasted the separate lots in fermentation then this past spring and fall. The 2017 here has never been anything less than showy in the very best sense of the word. These days, VHR is at the top of the pack in Napa Valley. And, I have written here before, the wines VHR makes but that do not make it into their final blend, are better than those wines other properties do bottle!
---
Vine Hill Ranch: The Quiet Superstar Has Been Steadily Producing Napa's Finest Grapes for Decades
In the fame-drenched Napa Valley, there is a tremendously important vineyard, growing Cabernet Sauvignon grapes, that is not famous at all. When you read the history of this vineyard, in the dramatic decades of the 60s, the 70s, the 80s, the 90s, right up to the modern day—what you find is a record of the most important changes that shook Napa Valley, pushed it into its modern superstar status. The vineyard of which I sing—Vine Hill Ranch—quietly, surreptitiously, played one of the most central roles of all in the rise of California's most iconic wine region.
Some proof…..
Pick a "famous" Napa wine from the 20th century. Let's say the historic 1968 Beaulieu Vineyard Georges de Latour Private Reserve. A classic—made by the classic winemaker of the day, Russian-born André Tchelistcheff. What grapes did he choose to crush into this wine? Many of them were from Vine Hill Ranch, which sits in a beautiful southwestern corner of Oakville, rolling up over gentle hills into the east side of the Napa/Sonoma border (the Mayacamas Mountains). The elegant, almost European '68 BV Georges de Latour made the kind of waves in the wine world that puts a wine region on the map….though it was not an era of "vineyard identification"…so it did nothing for the fame of the vineyard that grew the grapes.
Another historic wine from the 20th century? How about its opposite, in a way: the much richer, much chunkier 1997 Cabernet Sauvignon Reserve, Robert Mondavi…grown almost 30 years after the '68 BV Georges de Latour? You guessed it: same vineyard source, Vine Hill Ranch. BUT…a very, very different wine.
In fact, from the 1950s, when Vine Hill Ranch was established…Napa Valley Cabernet has been on a roller-coaster, style-wise. Vine Hill Ranch has seen it all. Its flavorful fruit has been used by many Napa winemakers for many decades to craft wines that were "of the times"—elegant sometimes, but at other times more forward and boisterous. Following the history of wines made from Vine Hill fruit is a way of following the history of Napa: Cakebread, Chappellet, Etude, Duckhorn, Lail, Bond, Araujo, and, right up to today, the great group at Favia Erickson Winemakers (Andy Erickson was the famous winemaker who fermented Screaming Eagle into mind-blurring fame).
Most happily, once and for all, I hope…. Vine Hill Ranch, in 2008, decided to start using some of its own grapes to make its own wines, wines identifying "Vine Hill Ranch" on the label as the producer. And the establishment of the brand came right in the middle of one of Napa's greatest stylistic eras (which is still going on): the era of the Modern Napa Wine, which is much less weighty, much more ethereal than the Napa wines of the 1980s-1990s. A perfect vineyard source (Vine Hill Ranch), found a perfect winemaker in 2008 (Francoise Peschon), to make elegant wines, through this day, that are the best possible expressions of Vine Hill fruit.
Intriguingly, almost ten years later, they are still not so well-known.
The contemporary Vine Hill wines are like a memoir of another era. Back in 1956, when an architect from Point Reyes, California, named Bruce Kelham, decided to buy a large vineyard in Napa Valley, and to move north to Napa, and to become a grape-grower…Napa Cabernet had an almost Old World aesthetic going on. The wines were gentler, lower in alcohol, somewhat like the European reds that were their historical grandparents. Tchelistcheff's '68 BV Georges de Latour was such a wine.
But then…May 1976 happened. In Paris!
Some of California's best Cabernet producers…in most cases, producers of rich wines…were asked to compete in Paris, in a blind tasting that set up French Cabernets (from Bordeaux, of course), and California Cabernets, for a duel. The judges were French. Staggeringly, the Californians came out with a first-place victory for the 1973 Stag's Leap Wine Cellars Cabernet Sauvignon (from Napa Valley), as well as big honors for other 1970s Napa Cabs from Heitz, Clos du Val, and Chateau Montelena. You can only imagine the shock throughout the world–and the frenzy in California
Until the 1976 victory, the traditional, more restrained style was in full force in Napa. According to Dan Berger, wine columnist at the time for the L.A. Times, Cabernet-making was relatively buckled up before the Paris victory: "no excessive ripening (22 to 24 Brix was the standard), no excess alcohol (13.5% was considered too high), almost no new wood."
But "the judgment of Paris" had its effect. The heads of California winemakers swelled, as did their wines. "If the richer, chunkier style of California Cabernet beat out the more elegant first-growth Bordeaux," they wondered….."shouldn't we go richer still?"
And they did. And they came in droves to do it, emboldened by California's great international victory. "The consumer," Berger says, "was inundated in the 1980s by brand after brand of new Napa and Sonoma Cabernets." Soon-to-be classics like the Shafer Hillside Select were inaugurated (first vintage: 1983), as well as lots of smaller-scale wines and wineries. And the use of new oak was rampant; sarcastic tasters at the time spoke of pulling splinters out of their palates.
Well, this was fine and dandy for Vine Hill Ranch; if the pickers harvested their grapes later in the season, the grapes provided superb material for this over-the-top kind of Napa Cabernet.
And the wines got bigger still before the pendulum started swinging back twenty years later. A famous writer contributed a lot to the fattening up. The consumer was overwhelmed by all this up-sizing activity—and needed a lodestar, a voice, to help select these new California Cabernets. Wine writer Robert Parker emerged—who put the final kibosh on the elegant California Cabernet tradition; Parker had a predilection for big, densely fruity, heavily extracted wines, with lots of tannin, alcohol and new oak. "We had in California," Berger recalls, "the first indications that high scores could sell wines. And because high scores went to fat wines, that changed everything."
The spectacular 1990 vintage itself sealed the deal. Pushed by this warm year, and by the growing knowledge that making wine that's bigger and bigger predictably leads to higher and higher scores, a new type of California Cabernet emerged: the expensive bottle (wineries were flirting with $100 per at this point, soon to rise), containing sweet-ish, ripe, concentrated wine, whose price was ostensibly justified by the 97, 98, 99-point scores the wines were receiving.
Throughout the 1990s, the push was towards Cabernets like these. "What became the norm," Berger says, "were wines not for the dinner table, not for the cellar (because alcohol and pH were too high for aging)…..but 'walking-around wines,' show-off wines, trophy wines." This is the era in which the California cult wines became all the rage: Harlan, Screaming Eagle, Bryant Family Vineyard, Staglin, anything made by Helen or Larry Turley, with prices for a single young bottle rising absurdly close to $1000. "These were egocentric wines," notes Bob Millman of Executive Wine Seminars, a prestigious tasting group in New York City, "centered around the egos of the proprietors, or the flying consultants flown in from across the globe to assist them." The wines, according to Steve Tanzer, of the top wine publication Vinous, became "urban indoor sporting events."
As if this weren't enough basis for change, the '80s had brought another startling development: the discovery of phylloxera in northern California's vineyards, the same root louse that had nearly wiped out the vineyards of Europe in the late 19th century. This horrific plague threatened the end of Napa Valley wine. Yes, Napa Valley was riding the Cabernet rocket–but the rocket was about to explode if something wasn't done about the vineyards.
Having no choice, many wineries pulled out their old, phylloxera-susceptible vines—as they did, in a major way, at Vine Hill Ranch—and planted new rootstock that was much more resistant to the disease. The changes wrought by this were unexpected–and enormous. The new vines produced massive amounts of sugar easily; it soon became apparent that you could have much more concentrated wine than ever before, with higher alcohol and a greater impression of sweetness. A lot of the newly re-planted vines came with new trellising systems…..bringing even more sunshine and ripening to the grapes. Plus….modern yeast strains that came into vogue at this time were better at converting sugar to alcohol.
"Intriguingly," says Bruce Phillips, grandson of Bruce Kelham, and current co-owner of Vine Hill Ranch—"another trend was taking hold at the time of the post-phylloxera re-planting: the identification of vineyards on the labels." Robert Mondavi, a long-time buyer of Vine Hill Ranch grapes, started identifying his wine made from Vine Hill grapes as Robert Mondavi Winery Vine Hill Ranch Cabernet Sauvignon." Before the phylloxera epidemic, Phillips pointed out, "almost all vineyards were planted in a way to maximize volume. But at this time—the re-planting of quality producers started to emphasize individual plots." This was an important new phenomenon in California that lasts to this day—mirroring the age-old practice of wine in, say, Burgundy, where the most prominent thing on the most expensive labels has always been the name of the vineyard, not the producer. Vineyard-identification in Napa accompanied the rise of richer, more expensive wines.
So where can you go from there? Nowhere. 16% alcohol? No way. There WAS no way for these pumped-up, expensive, vineyard-identified wines to get any bigger in style.
So….they didn't. Starting in the mid-2000s, after taking much international ribbing about "monster" wines…and just about at the time that Vine Hill Ranch was starting to make its own wine, in an elegant style…Napa Cabernet went on a diet.
"While heightened alcohols and fruit concentrations dominated the wines of the late 90's and early part of this century," says Bruce Phillips, "Napa inevitably moved towards grapes being harvested at balanced maturity…resulting in wines that are uniquely expressive of their individual vineyard sites and the subtle nuances informed by each individual growing season."
Phillips made a great contribution to this trend. When a guy whose family has been growing grapes for fifty years starts making wine himself, people notice. Neighbors notice the kind of wine he's making. And right from the VHR get-go, in 2008, Francoise Peschon has been making Napa wine in a decidedly French direction.
Easy question: where is Vine Hill Ranch wine going from here? To ever-greater quality, I suspect. Peschon, is still in place, at the height of her skills. Many of the blocks of Vine Hill Ranch that are used for the winery's own wine are getting older—a good thing, in viticulture! And a very good thing, in this case! I had the opportunity recently to taste through barrel samples of the most recent vintage, the 2017. There were six samples, each from a different block of the 70-acre vineyard; each of the blocks had had its own planting date. Intriguingly, my two favorite barrel samples were from the two youngest blocks! One of these blocks was five years old, and one was six years old. They seemed much brighter, even deeper, than the blocks averaging around 20 years of age.
This doesn't necessarily mean that the younger vines are better vines; Peschon uses different barrel treatment for wines from blocks with different ages—typically choosing more new oak, and longer stays in oak, for wines from older blocks. But the careful tracking that she does—and constant experimenting—will inevitably lead to adjustments that improve the quality of the wine. When I asked her about her criteria in choosing barrels, she said "we look for barrels that enhance the quality of our vineyard, rather than make a statement." Brava! Exactly what a winemaker in Napa Valley in 2000 might not have said!
I also had the chance to taste a range of recent vintages already in bottle. Brava again! I especially liked two: the 2010, a luscious wine, with pretty eucalyptus notes, and very little wood influence; and the 2015, a wine that's becoming available in retail, elegant, with good acid, and with touches of vanilla and camphor in the very pretty nose. Complex, high-quality wines, the both of them.
These wines are not inexpensive, of course…like so many wines before them that came out of this very special vineyard. The 2015 has just appeared in California wine shops at around $200 a bottle. But if you compare that to other first-rate, better-known Napa Cabs—at Wally's Wine and Spirits in Los Angeles, you can find yourself a nice 2015 Screaming Eagle for only $2500—I'd say $200 is quite a bargain.
Grapes in the same family since 1956, wines from the same winemaker since 2008—both of these things encourage me to break the piggy bank (it's only a fracture, really!) for this enormously consistent wine from Vine Hill Ranch.
---
Kelli A. White, Napa Valley Then & Now (excerpt)
2015
Since its inception, the wine [VHR, Vine Hill Ranch] has ranked among Napa's top performers. Its limited 500-case production fosters its status as a well-kept secret, though competition for the bottles is increasingly fierce…
---
Antonio Galloni, Vinous Media, vinous.com
May, 2014
2013 Napa Valley: A First Look…
It's hard to believe just how far Bruce and Heather Phillips have come in just a few years. Of course, the Phillips family has been supplying grapes to some of the Napa Valleys top wineries for decades, but that is not the same as making wine. Ever since their debut vintage 2008, the Phillipses have quietly but surely staked out a place for themselves among the top producers in Napa Valley. Vineyard guru Mike Wolf and Winemaker Françoise Peschon bring an extraordinary level of passion to Vine Hill Ranch that is evident in every detail.
Vine Hill Ranch currently produces just one wine, which is a blend of six separate blocks on the property. The 2013 harvest was a full three weeks ahead of 2012. Peschon opted to leave the wines on their lees as long as possible. The 2013s were racked in March, right after the malos finished. The five blocks of Cabernet Sauvignon in this tasting are all vivid and remarkably different. Block 6L, the single largest component, is drop-dead gorgeous. Petit Verdot has yet to be used in a final blend at Vine Hill Ranch, but the 2013 is beyond beautiful. The 2012, tasted just prior to bottling, could turn out to be one of the wines of the vintage. I also had a chance to re-visit the 2010 and 2011 from bottle. Both wines confirm their place among the best wines of their respective years. Readers who haven't tasted Vine Hill Ranch owe it to themselves to do so. This is without question one of the most exciting properties in Napa Valley today.
---
VHR and the Art of Orchestrating the Seven Block Toolbox
Bruce Phillips on building the character of the vineyard: "Each generation in my family has had the opportunity to rule one block," said Bruce of Block 3, "and this one is mine." Planted in 2000, Block 3 is nearing maturity and just now coming into its own. "Over periods of time, blocks will come into time and decline [before the need for rejuvenation]…It takes time for a block to fall into character." And while a block that is still in its adolescence has the potential to "wow you", it can also be unpredictable, he added.
Releasing their second vintage – VHR 2009 – just this year, the Phillips family of Napa Valley has a history of vines that extends far beyond this time. With 70 acres planted to Cabernet Sauvignon, the family is a long time supplier of fruit to some of the most prominent winemakers in Napa. In our last post about VHR, we discussed the inaugural vintage at VHR, crafted at the hands of Francoise Peschon. When we most recently spoke with Bruce, the third generation behind the farm, he was happy to discuss the differences between the estate's seven blocks, and their varying stages of development.
With the average life of a vineyard spanning 25-30 years, there comes a time when the vines must be uprooted and replanted. And because Napa Valley was forced to deal with the phylloxera infestation of the late 1980's and 1990's, two-thirds of its vineyards are now 20-27 years old. "Those plantings have been a driving force for putting Napa on the map," said Bruce. "It's really exciting, we're moving into the next big phase in Napa. We'll see a lot of replanting in the next 5-10 years, bringing forward new root stocks, clones, plantings and refacing of vineyards." And, just as every bottle is a snapshot of selections from the "toolbox" or parcels at VHR, the estate itself is a picture of the best that Napa has to offer.
With seven blocks hosting a variety of Cabernet Sauvignon clones and rootstock, each limited release at VHR is an assemblage of fruit from the estate's best vineyards. Aged nine- years-old at the time of harvest, the fruit from Block 3 was not included in the most recent vintage, which was in fact comprised of fruit from Blocks 4, 6 and 7.
Located near the Valley Floor, Blocks 2-4 are the estate's "benchland" blocks that yield fruit that is red in character, and bright with soft and supple tannins. At 300-400 feet above sea level, these vines receive the moisture that comes downslope, which in turn informs the density of the plantings and the choice of selected clones. With 1,000-1,400 vines per acre, the "benchland" blocks can be twice as dense as those on the hillside. And while Blocks 1 and 6, which are located on the hills of the Maycamas Mountain Range, average 700-750 vines per acre, they produce grapes that bring structure to the wine with big tannins and notes of dark fruit, with nuances in between.
On the northern boundary, Block 7 is the smallest of the lots, at 5.72 acres. Located on the watershed of the Maycamas, this Block contains the highest mineral content. With roots that reach 10-15 feet deep, the soil here is rich with cobblestones, yielding fruit that is high in minerality.
As the estate's oldest and most historic plot, Block 1 was originally planted to vines in 1873, and most recently replanted in 1990, post-phylloxera when, Bruce said, "my father brought the vineyard back." Terraced just as the plot was back in 1873, Block 1 could have yielded another 40 years of fabulous wines, but it is currently out of commission. Now planted to a single clone and a single root stock, Block 1 is undergoing a transformation. Employing eight clones and rootstocks, VHR is redirecting the terracing from the contour of the hill that it now follows, to rows that travel up and down the hill. During the 1990's the farming equipment was big and heavy, but now that technology has changed the rows can be more tightly spaced and in-line, which will yield better and more consistent fruit quality with optimal exposure. And while the Block is now lying fallow, the stakes and rootstocks will be in place next summer, and the grafts will be added the following spring in 2014.
"In designing a vineyard," said Bruce, "you design for a moment in time, July to early August", when the fruit starts to ripen. In a densely planted "benchland" block, VHR employs a variety of rootstocks and clones, with different canopy management. "If you do it right," he added, "you arrive at veraison at the same time."
Like the rest of Napa Valley, VHR will be looking to stagger their replantings over the next five to eight years, in a carefully orchestrated effort to maintain their song. "It will take a lot out of production, Napa Valley wide," said Bruce. Yet one can be assured that just as the Phillips family ensures that each block of vines reaches veraison at the same time, they are also carefully conducting their seven blocks like members of a Big Band that never misses a vintage, note or beat.
---
Collector's Confidential: Napa's Hot Five
The Next Wave of Napa Cult Wines
The Stevens touted this place as "the hottest property in Napa Valley," mostly because the Phillips family makes subtle, brilliant Cabernet—it speaks to the sophistication level of the buyers who appreciate their remarkable ($150) wines—but partly because the backstory is captivatingly unusual for a Napa cult wine. The Philips didn't arrive in Oakville flush from some otherworld glamour occupation. They came from…right here on this property!
They've been farming it themselves—grandfather to father to son—for 50 years. It was just that up until now they'd been selling off the fruit to tony brands like Bond, Etude and Lail. The family made the decision to cherry pick about 5% from diverse sections of the vineyard and put the grapes under the care of A-List winemaker Francoise Peschon. Shrewd move: The refinement and sense of proportion in these reds should shame the last anti-California wine snob into extinction.
---
Antonio Galloni, The Wine Advocate
May 24, 2012
Napa Valley: A First Look
Proprietor Bruce Phillips and winemaker Françoise Peschon showed me samples from the four Cabernet Sauvignon blocks that will be used for the 2011. Quite simply, I was blown away by the purity of the wines. In 2011 the Vine Hill Ranch Cabernet Sauvignon will include a small percentage of Petit Verdot (that was grafted onto Merlot rootstock) for the first time. The sample I tasted was harmonious and complete.
It will be interesting to see what Petit Verdot brings to the wine. I also tasted the 2008 and 2009 from bottle. The 2008 is just starting to soften and show hints of complexity in its aromas and flavors, but the 2009 is an undeniably sexier wine. The 2009 needs another year or two to truly shine, but today it is living up to all the praise I bestowed upon it in our December issue. The 2010 combines elements of both the 2008 and 2009. It is yet another drop-dead gorgeous wine from Vine Hill Ranch.
---
Paul's Pick: Vine Hill Ranch Estate Cabernet Sauvignon
Over the years I have been fortunate to taste many, many California Cabernets, and there have been many that are truly excellent, but it is rare (like not in the last 12 years) that one crosses my path where the only way I can describe it is 'extraordinary'!
Vine Hill Ranch has just released its first ever estate Cabernet Sauvignon. The property is located in the southern corner of the Oakville appellation. Bob and Alex Phillips began cultivating fine winegrapes here in 1959 and with the founding of Phillips Family Farming. Vine Hill Ranch continues to produce exceptional fruit for a collection of premier Napa Valley Cabernet Sauvignon vintners. Their vineyard is divided into 7 blocks, and each is picked, vinified, and aged separately. The blocks are then selected and blended for the finished wine. The label indicates which blocks were used and gives their date of harvest, as well as other technical information. Only 300 cases were produced.
Extraordinary wines usually come with a hefty price, and this wine is no exception ($150 a bottle), but I compare the wine to other Napa Cabernets that sell for 2 to 3 times the price, and I like this one more! This is a world-class Napa Cabernet that is delicious now, but should be put in the cellar next to the great Bordeaux. If you are looking for that "extraordinary" gift this year, don't overlook the 2008 Vine Hill Ranch Cabernet Sauvignon. Needless to say, supply is very limited!
---
VHR–2008 Cabernet Sauvignon, The Inaugural Vintage
On Friday morning, Bruce Phillips and Francoise Peschon, of VHR, or Vine Hill Ranch, in Oakville, Napa Valley, came by Studio TEW for a visit. Here to debut their inaugural vintage–the VHR Cabernet Sauvignon 2008–Bruce discussed the inspiration for the wine, along with the history and transformation of his family's vineyards.
In the family for three generations, VHR has been farmed by Napa Valley growers since 1884. Originally planted with plums, pears, grapes, and walnuts, VHR turned vineyard when purchased by Bruce Kelham, Phillips' maternal grandfather, in 1959. With 70 acres of Cabernet Sauvignon that run alongside the wooded hills of the Mayacamas Mountain Range, VHR consists of seven blocks, each with a unique terroir.
Initially following in his father's (Bob Phillips) footsteps, Bruce sourced grapes to local vintners, who partnered with him in the field. In 1998, Michael Wolf joined the team as vineyard manager and in 2000, they started to explore the "winemaker's toolbox"– one acre plots within the seven lots that could potentially be vinified separately and blended.
In 2004, says Bruce, "Mike Wolf and I had lunch with my father…" who was happy to be a grower. "…He said, 'Why don't you try to figure out how to do this?'" And with that, they got his father's permission to vinify the grapes that they had been growing.
Joined in 2008 by Francoise Peschon, who'd studied at UC Davis, spent time in Bordeaux apprenticing at Chateau Haut-Brion, and served for 15 years as the winemaker at Arajuo Estate, VHR took a calculated gamble, deciding to make their first vintage in the economically tumultuous 2008. "2008 was a winemaker's year," says Bruce, "with small berries and a tight crop."
To best express the attributes of each block, for the first vintage they decided to begin with four one-acre carveouts that would be fermented separately, "to weave a blend together," says Francoise, "to make something unique…to make a wine without having to interfere too much…no filtering, no fining…it's all about extraction and maceration…" and their use of native yeasts. And though all 70 acres support Cabernet Sauvignon, there's diversity from within, says Francoise, through vine age and rootstock.
For the 2008 vintage, they vinified blocks 4, 6, and 7, which are listed on the label along with the harvest dates and yields. Inspired by old grower records, the labels are a tribute to the agricultural history of VHR. "The identity is tied to the old tax account documents that my father saved," says Bruce. "He dropped on the table a dusty box, and in it were old tax records from the 1800's. These documents are hand written…they're beautiful…they document how many hogs and vines…the documents solidify the history before my family."
As Bruce and Francoise spoke, we passed the bottle and tasted the wine, which is restrained, elegant, and balanced. With fresh berries on the nose, a touch of spice, and ranch animal notes that turn savory on the palate, the VHR shows beautiful acidity and mid-palate tannins that blend together beautifully with the wine's herbaceousness. With elements of agability, the VHR is surprisingly approachable and drinking well now. With only 300 cases produced, our allotment is limited…and we certainly don't expect that it will last.
In 2011, VHR was awarded the prestigious Napa Valley Grower of the Year Award, and we here at TEW certainly look forward to future vintages.
---
Doug Wilder, Purely Domestic Wine Report
June, 2011
If you had asked me in January to tell you what I knew about Vine Hill Ranch, it would have been a fairly short answer: They are an established grower in Oakville who sells Cabernet Sauvignon grapes to Etude and Cakebread who produce vineyard designated wines from the property. That's about it. I couldn't tell you exactly where it was, how big or who owned it. However, I certainly could tell you about the wine in the bottle.
For the most part, unless a grower also produces a wine from property they own it is fairly certain that the average wine consumer, or for that matter a wine writer would not have much reason to make a connection with them, at least directly. We would usually only experience what they do through the efforts of winemakers if the label includes vineyard designations such as Alder Springs, Monte Rosso, Larner, Stagecoach, Georges III, Martha's, To-Kalon, Hyde, Hudson, Shea, Cohn, or Vine Hill Ranch. Generally the way we consider winemakers is the same way winemakers consider growers – The top names are who we want to work with, or in other words follow the winemaker and they take you to the dirt.
In February, I attended the Napa Valley Vintners Premiere Napa Valley, the winter barrel auction. It is to wine as Cannes is to film; everyone in town is either a distributor, broker, retailer, restauranteur, sommelier or writer. Over the past couple years an unofficial trade-only tasting happens the day before in the caves of a winery on Silverado Trail put on by broker, Kimberly Jones whose portfolio of wines is more like a gallery of carefully curated works. If you knew nothing about wine walking in you would leave three hours later having been exposed to wall to wall excellence. Because I expect nothing but the best when I attend, the event is always a pleasure and even more so when I meet a new producer.
People in the wine business are a collegial bunch, and we trade tips freely on what to try. Generally I pay attention when somebody tells me 'you NEED to taste this or that!' So after I heard several comments about newcomer, Vine Hill Ranch, I made my way to the table which happened to be mobbed by at least a dozen people. Two people were behind the table, I recognized one of them and only then did I understand what the fuss was about – It was the winemaker, Francoise Peschon who has only been associated with the best as long as I have known her; Araujo, where she started in 1993, and Drinkward-Peschon, her own project that was an overnight success, literally, during my time at Dean & Deluca. Instantly, I felt about 70% of what i needed to know was standing in front of me. If I follow her, I will know the rest. The man with her was Bruce Phillips, proprietor of Vine Hill Ranch. He was patiently answering questions posed by a man who to the rest of seemed to be conducting an impromptu interview. Francoise saw me and was able to get a quick pour in my glass and after a few minutes introduced me to Bruce for no more than just a quick handshake.
I got a chance to visit a little longer with both at the Oakville Grower's Tasting in April. Both tasting opportunities so far indicated very high quality in the bottle. The more I learned about the project on paper convinced me that it needed to be on the short list of places I personally visit before the launch of purely domestic wine report. After a little planning around calendars, the three of us finally got together for a visit yesterday. Francoise suggested that I 'bring my boots' since a trip to a vineyard for the first time is more about understanding the different blocks before tasting the wine, which in the case of Vine Hill Ranch is their premiere release of 300 cases. I should point out they do not have a tasting room, nor are they open to the public.
We set out from the farmhouse on foot to transit the entire seven blocks of vines comprising seventy acres whose production, with the exception of a sliver of each retained by the grower, is contracted out to other wineries. Bruce's family acquired the property in 1959 (through his grandfather) with the focus being toward grape-growing. The history of the property is documented in archival preserved pages of county farm records from as far back as 1884 and that link to to farming heritage is intrinsic in the message of the new winery— "Land is at the heart of the story". Boundried by neighbors, Dominus Estate to the southeast and Harlan to the northwest, the western perimeter is forested slopes of the Mayacamas range. The well drained soils and eastern exposure along with a flexible, three wire canopy management system make this a textbook place to grow cabernet sauvignon. After completing the walk we returned to the farmhouse where Bruce shared the inspiration of the label and packaging with me. I look at a lot of labels and realize more than most that in most instances, the story is very short and the collateral material is fairly simple. In this case (literally) you get a sense of the history of the place—a cedar wood box with what looks to be brass nails affixing the lid hold three bottles of VHR, tissue-wrapped with a print of the 1884 farm record. What is very different and reminds of how things were done by hand in another era is the label (shown left) is designed like a farm tax ledger. It contains seven columns representing the distinctive blocks that are available and every year the label will display 'hole punches' indicating the blocks used along with the vine count, harvest dates and acreage.
To me there is a tremendous amount of appeal to the packaging, so carefully conceived and executed with a design and quality of finish that I imagine were consistent with 1884, and maybe even 1959.
The success of the premiere release is a given however there are no plans to dramatically increase production from the estate. "We have always been about growing fruit for others", said Phillips, "we intend that to continue for generations".
---
James Suckling meets with Bruce Phillips and Michael Wolf about VHR's 2008 vintage.
---
Gary Fisch talks with Bruce Phillips about the inaugural release of VHR
---